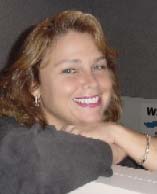 Alicia Kaye
Alicia Kaye drives you home everyday from 3-7 PM on Smooth Jazz 94.1 WSJT.
Alicia is no stranger to Tampa Bay having worked here in the early 90s at WRBQ Q105.
Alicia left Tampa Bay for a trip to Hawaii, but was summonsed back here just a couple of short years ago.
Kaye has a great set of pipes, and a tremendous presence on the air, and a loyal following who can't wait to hear her sexy tones everyday.
A Scorpio in every sense of the word.