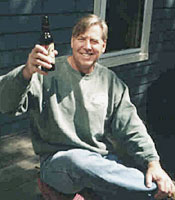 Alan Ryan
Alan Ryan fought in Vietnam as an M-60 machine-gunner with the Marine's elite 2nd Combined Action Group. He later served as a rifle range NCO at the US Naval Base at Little Creek Virginia, teaching midshipmen from the US Naval Academy how to fire the M-16 rifle..."and keep their freakin weapons pointed down-range."
After the Marines, Alan took a job as a rock disc jockey on a radio station outside the Marine base at Camp Lejeune, North Carolina and won Billboard Magazine's Air Personality of the Year his first year in the business. That led to a gig at WBT in Charlotte, North Carolina, the 50,000-watt AM giant, and to an afternoon drive slot on WBT's powerhouse FM rocker, WBCY. In 1980, Alan was offered a TV job at WBTV, Channel 3, Charlotte's top-rated television station, was a weekend weather anchor, feature reporter, personality, and hosted his own music video show.
A bit disillusioned with television, Alan quit broadcasting in 1986, moved to Florida and returned to college, where he majored in creative writing and worked as a part-time bartender and freelance writer. His work has appeared in the St. Petersburg Times, the Tampa Tribune, the Virginia Quarterly Review and a number of other publications. In 1990, Alan was offered a job as the mid-day news anchor for 970 WFLA, took it, and has been there ever since. He's a four-time winner of the Associated Press Best Newscast Award, major market.
In 1996, Alan married Nancy Johnson, a former morning news anchor at 970 WFLA and now the Media Relations Manager at University Community Hospital. They have three boys and live on a small farm in Wesley Chapel, where they breed and train Arabian horses.