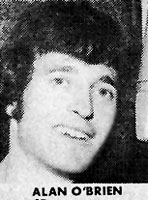 Alan O'Brien
Alan O' Brien (aka: Brain Allan Schluderberg) grew up in a small town in Virginia... near Roanoke/Lynchburg... Started in radio at age 17 in Tennessee. Went to work in Tampabay for Bill Garcia at Q105 in the mid 70s.
He worked in Houston for awhile after leaving Tampa doing production and I assume some air work at an urban AC station KMGC.
Very good DJ, loved by all who knew him.
UPDATE:
Alan O'Brien died in 1995...cause of death "unknown".