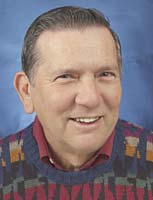 Tony Saladino
He earned the nick name 'Snake' when he was a shortstop at Jefferson High School. He could crawl around the dirt, digging up those hard grounders. His play earned him a trip to Tampa U. Tony Saladino seems to have always been around baseball.
Tony is a historical landmark in Tampa Bay, many young people were coached by Tony either in Hillsborough public schools or at the recreation center where he volunteered his time. He learned the game of baseball from his father Tony Sr.
Tony Sr. passed away at a very early age while bowling with Tony Jr. It left an indelible mark on Jr. losing his dad at such a young age. Tony searched for ways to honor his father, a man he so much admired. 20 some odd years ago, Tony and his wonderful bride Bertha initiated the Annual Tony Saladino Baseball Tournament. The list of kids that have come through this tourney and have been discovered by Major League Baseball reads like a who's who.
Tino Martinez, Brad Radke, Louis Gonzalez, Fred McGriff, Gary Sheffield, Dwight Gooden and many more have been discovered while playing in the Saladino.
Each year Tony and Bertha entertain the tops scouts in both the majors and in college, and kids benefit.
The tournament is just one of the reasons Jefferson High School inducted Tony into their Hall of Fame in 2000. He is such a jewel, such a great member of the Tampa Bay community. He gives and gives, and never asks in return.
One of Tony's team mates at Jefferson and Tampa U was former Florida Governor and US Drug Czar Bob Martinez, who says there are few who have made the impact on youngsters like Tony Saladino. He is truly an outstanding human being, and deserving of recognition as a Tampa Bay Legend.