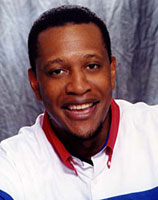 Tony Grier
Tony was the original Bull that put USF basketball on the map. As a native New Yorker, he landing in Tampa, Florida in 1979 and soon became a hit in town. When the USF Sun Dome was built in 1980 he led the Bulls to new heights that many still remember today.
His memoir "A Raging Bull: Chasing the Big Time" is do out in 2006. Tony has made Tampa Bay his home and now dabbles in real estate and is a motivational speaker. He's a dead ringer for singer Al Jarreau.
Now married with two kids. He is currently living in the Palm Harbor area.