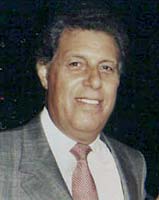 Tony Garcia
Tony Garcia was Tampa's "Mr. USO" for some 40 years, serving personnel from Tampa's MacDill Air Force Base, Naval Reserve unit and military visitors with all the comforts of home prior to leaving that post in the mid-80's.
Nobody in Tampa knows more people or has more connections around the country than Tony, always willing to call in a favor to help a friend in need. Throughout his lifetime he has been a walking employment agency, often called upon by people, many of whom he had never met, seeking assistance with getting jobs. Remembering his own experiences early on, he helped thousands over the years obtain jobs in the local business community.
A native of Tampa, Garcia grew up during tough times in West Tampa. He served in the military during World War II and attended the University of Tampa, where he discovered his love for promoting show business enterprises.
While at Tampa U., he introduced a couple that would become an entertainment legend in the Tampa Bay area, singers Jack and Sally Jenkins. Eventually, they performed on the Ed Sullivan Show. He also pulled strings at UT for lots of friends..to get them admitted and to make sure they got their degree.
Mr. USO mastered the art of doing the impossible in all things he took upon himself to execute. Tony originated positive thinking and no matter what people have asked him to do, he's always responded with "No Problem."
In the 50's, he assisted his good friend Bob Florio with production of a weekly program, Radio Ranch, and in the 60's helped run the Desert Ranch Hotel on St. Petersburg Beach. He was later a partner with Florio in other successful real estate ventures.
He affiliated with the United Service Organization (USO) in the 50's and in 1967 opened a lounge for servicemen in downtown Tampa's old Hillsborough Hotel.
During his career, he brought big name entertainers to Tampa to perform for servicemen and for the Latin American Fiesta, for which he served as executive director. Among those he arranged to visit our city on behalf of both the USO and the Latin Fiesta were: Bob Hope, Desi Arnaz, Jimmy Stewart, Ricardo Montalban, Cesar Romero, America's Toastmaster General George Jessel, Vicki Carr, Kirby Grant (Sky King), The Three Stooges, Spanky MacFarland (of Little Rascals) and many others.
In 1983, Shirley Temple used her telephone to search him out at all his Tampa hangouts to thank him for a gift he had sent her. It wasn't unusual for legends like Jimmy Stewart and Bob Hope to give him a call to chat.
He encouraged new entertainers and gave them lots of work. During most of his USO career, he used the talents of the Arena Twins, Jack Espinosa, the Frank Rey Dancers, and hundreds of area newcomers who went on to make it big in the business. His USO Christmas Shows were always sold out and often broadcast live on local television stations.
Garcia has always shunned publicity, preferring to "fly below radar" in doing his good work for people. There are lots of "Tonys" around but only one Tony Garcia and everybody knows when Tony Garcia takes on a project it gets done right and right away.
Tony retired from the USO in the mid-80's and concentrated on producing variety shows for various area charities and taking care of his family. He lived in West Tampa with his wife, Blanche, and was often seen sipping cafe con leche at any one of his favorite coffee shops near his home of almost a half century.
Tony passed away Sunday October 12th, 2003 at St Joseph's Hospital after a long illness. His passing marks the end of an era, an era that will never be matched in West Tampa.