Tom Mc Ewen
The 'Titan of Tampa Teletype'
Born in Tampa raised in little Wauchula in middle of state as a fourth generation Floridian.
Forbearers, two circuit riding preachers, W.P and W.A McEwen, settled that part of state, in the Wauchula area on Peace River, once acclaimed as the cucumber capital of the world…. Graduate University of Florida, cum laude, in absentia, in journalism… was in WWII.. in Pacific when degree declared…
WWII tank and platoon commander in Pacific, retired as Lt. Col after National Guard service… aside, at 21 became CO of Japanese prison camp of 2000, with Joe Garagiola as my jeep driver. Still salutes me.
Good looking wife, Linda, of 33 years, four kids, four grandkids. She had own travel agency for 20 years and now has franchise rights with investors of Outback Steakhouses in South Africa, because of extensive travel there. But, when 9-11 came, did in the Rand in SA and now she, Tom Pepin, a partner, and Jeff Wooley, have percentages in Holding Company with Burley Moss in South and North Carolina for Bonefish Grill. Nice.
Sports editor of Tampa Tribune (Times before that) 33 years, staff going from 3 to 63, writing 6 columns a week all of that time, and managing sports. First job after WWII… Fort Myers News-Press, becoming its first sports editor there in 1948.
Winner many awards in newspapering… 19 times voted sports writer of year in Florida… Winner Red Smith Award for contributions to sports journalism by AP sports editors association, and Dave McCann for professional football writing… and has sat on NFL Pro Hall of Fame Selection committee for 30 years, as well as college hall of fame selection committee.
Publix super markets endowed, fully endowed $50,000 athletic scholarship for football at University of Florida.
Mayor of Tampa and Chamber named street in front of Raymond James Stadium (Bucs and Super Bowl) for him, as well as the chamber's annual Leadership Award, he winning being credited for helping to bring Bucs, Lightning, soccer and Yankees to Tampa, and building of both Tampa Stadium, then Raymond James, the Ice Palace, and Legends field where the Yankees train.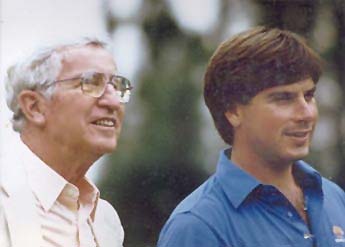 The Tampa Chamber created and annually awards the Tom McEwen Leadership Trophy. Naturally, McEwen got the first one.
In Halls of Fame of Hardee County (Wauchula), U of Tampa, City of Tampa, State of Florida.
A co-founder with Mr. George Steinbrenner as the originator and lead man, of Gold Shield Foundation that educates children of fallen law officers and firefighters, which in NYC is the Silver Shield.
Active in bring Super Bowls to Tampa and Lightning last year named its press box in Ice Palace for him.
Retired as sports editor five years ago and completely from Tribune as columnist after last January Super Bowl.
McEwen now is:
Executive Director of the NY Yankee Alumni Association, a full time job…


Executive Director of the Art Pepin (Anheuser-Busch) Family Foundation.


Writes regularly for Lightning web site and now has his own Web site: www.heytommcewen.com., and it is not bad.
Has written books... Gators, a football history of Florida football. Has had selection of columns printed and wrote private autobiographies.
Gave up golf for fishing..and caught everything all over the world. Just back from extended fishing trip in Alaska and a visit and look at Cuba.
Lives on water in Tampa and loves it. Likes Martini at sunset, new moon, first phase, half and full moon, wife, family, the USA, Florida, Tampa, and collard greens.