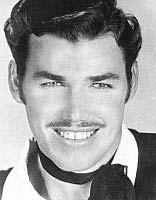 ~ 1955 ~
Slim Whitman
Slim Whitman, country music legend, was born Ottis Dewey Whitman Jr. in Tampa on January 20,1924. Slim's early interest was in sport rather than music. He became a star pitcher at Hillsborough High School and hoped to make a career in baseball. However, while still in high school, he met and married fifteen-year-old Geraldine Crist, a preacher's daughter.
The newlyweds moved to a 40-acre farm south of Jacksonville, Florida, where Slim worked as a meat packer. Just prior to the Japanese attack on Pearl Harbour he became a shipyard fitter at the Tampa shipyard, working alongside Robert Byrd, a native of West Virginia who would later become the Dean of US Senators. In 1943, he enlisted in the Navy and it was then that he learned guitar and entertained at shipboard events. Upon return to civilian life he split his time between baseball and entertaining when not working at the shipyard, west of downtown Tampa.
In 1946 he gained a contract with the Plant City Berries of the Orange Belt League, but his musical career also prospered via radio spots on Tampa radio station WDAE and several local club bookings. It was at this point that he opted for music as a full-time occupation. He stopped playing baseball in 1947 and put together his Variety Rhythm Boys, who were sponsored by B & B Grocers, a local supermarket on East Seventh Avenue. His group often performed for Tampa area charity fundraisers.
He was heard by Tampa Humane Society Director Colonel Tom Parker, then managing Eddy Arnold, who arranged for an audition with RCA Records. It paid off.
Beginning with "I'm Casting My Lasso Towards The Sky", he released several singles that failed to make any impact. In early 1950 he became a member of Shreveport's Louisiana Hayride. It was not a highly paid gig, but it helped raise his profile. To supplement his meager earnings he became a postman. It was at this time his trademark "singing guitar" sound was developed. Slim's steel guitar player, Hoot Rains, overshot a note and Slim decided that it enhanced, rather than detracted from his overall sound.
He became a member of the Grand Ole Opry in 1955 where he played with all the greats including Tom Hall, Porter Wagoner, Johnny Cash, Wanda Jackson, Mitchell Tork, Marty Robbins and Smoky Rogers. He sang on various record labels and became more well known in Europe than in the US. At one point in the 60's his recordings surpassed The Beatles on British music charts.
As his popularity grew with the middle-aged audience, so did the opposite view grow with the younger audience. An example of how derisory Slim Whitman's music has become is that the 1997 film Mars Attack! reveals that Slim Whitman's music is the only deadly force on earth that the invading Martians are powerless against.