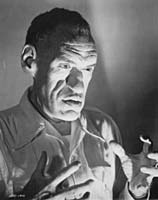 Rondo Hatton
Rondo Hatton began his career as a journalist in Tampa and ended up being one of the most famous faces in fright films in the forties.
He was born on April 22, 1894 in Hagerstown, Maryland. His family moved to Tampa when he was a teen and he attended Hillsborough High School where he was much sought after by admiring ladies. Upon his graduation, he attended college briefly and then got his orders to report for military duty during WWI as a member of the American Legion.
After the war, he returned to Tampa to become a general assignment reporter for the now defunct Tampa Times. While at the newspaper, he developed acromegaly…a disease which deforms the face and body in various ways. Some have suggested it was triggered by his exposure to poison gas during the war.
During the filming of "Hells Harbor" at Rocky Point in the late 1930s, Hatton was assigned to cover a day with the movie crew at which time the film's director noticed his unusual appearance and persuaded him to leave the newspaper for Hollywood. Upon arriving on the West coast, his frightening appearance inspired the movie studios to cast him as a monstrous killer in a number of mystery/horror thrillers.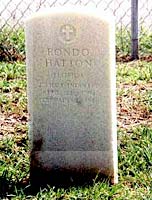 His most memorable screen appearances were in "The Pearl of Death" (1944) and "House of Horrors" (1946), both released by Universal Pictures. Relatives, friends and coworkers described him as a very kind, gentle and deeply religious man in real life, and he was happily married.
He died of a heart attack on February 2, 1946, at the age of 51. He was buried with honors at the American Legion Cemetery on Kennedy Boulevard just west of Dale Mabry. In recent years he has developed a cult following and several bay area scholars as well as the Tampa Museum has begun gathering volumes of material on his life.