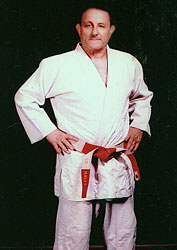 Prof. Ed Maley
Ed Maley is a legend, not just in Tampa Bay but across the world. Prof. Maley introduced martial arts to south Tampa while still a member of the US Air Force stationed at MacDill AFB in the late 50s.
His dojo has produced Olympians such as Dewey Mitchell, and many of the top Judo stars in the country.
Ed Has over 50 years of experience teaching and coaching Judo, and is nationally recognized as a Master, holding his 8th degree Black belt in Judo.
Ed has been involved with the YMCA, and The Brandon Recreation Department and many other organizations, dedicated to physical health and well being of youngsters.
His teaching style is one that has been copied by many of the top teachers of the sport, never duplicated.
This 8th Dan is a toughie, and is no one to mess with with, yet he is the most gentle person on the planet. Those that have come to know Ed love him, he has touched so many lives and positively influenced so many of our children.
For his work in the area of physical fitness and self defense, we proclaim Prof. Ed Maley a true Tampa Bay Legend.