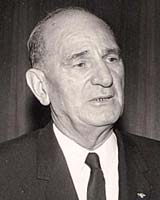 Nick C. Nuccio
Nick Chillura Nuccio was probably the most colorful and animated politician in the history of Tampa and Hillsborough County. In the fifties and sixties, almost every park bench in the area bore the words "Nick C. Nuccio, County Commissioner." Those were the days when you could get away with that.
Nuccio was born in Ybor City in 1901. Starting in 1928, he served eight years on the City Council and then 20 as a county commissioner. In 1956, he became the first Latin to be elected mayor of Tampa.
He'd start his day about 5 a.m. over a cup of coffee at the Fourth of July Café in West Tampa. Then he would shift to Ybor City, where he lived, to hold court at the old Cuervo's Restaurant, which stood at the Northwest corner Seventh Avenue and 18th St. If you wanted something from the mayor, if you lived in Tampa at the time you knew those were good places to be to get it.
Some lucky Tampans got to join him for lunch, always at home, where his wife of 65 years, Concetta, cooked for him and however many guests he brought along. This writer, Tony Zappone, was invited on numerous occasions and the menu always consisted of filet mignon, rice, exotically prepared vegetables, and a fruit parfait for desert. No matter where he went, his omnipresent cigar was in hand or mouth and his favorite hat was atop his head.
Nuccio built his share of civic monuments: the old Curtis Hixon Convention Center, the old police headquarters building on Tampa Street and the downtown library. Closest to his heart were his creations at Lowry Park: Fantasyland, which was torn down for construction of the zoo and Safety Village.
He gave out autographed photos of himself to every child who came to see him, along with pen knives or rabbit's feet for the boys and paper fans or maracas for the girls.
As mayor, he was in a constant battle with The Tampa Tribune. The were against him purchasing the vast riverfront property downtown owned by Atlantic Coastline Railroad, which extended from the now Kennedy Bridge southward to Cass Street. He even named the publisher of The Tribune, J. C. Council, to a board advising on the purchase but the paper's managing editor, Virgil M. Newton hammered him even harder. In retrospect, it was the best purchase the city ever made.
He won a second term in 1963. In 1967, Dick Greco's term on city council expired and he made his first run for mayor, and beat Nuccio. He retired from politics and spent his remaining years visiting friends and tending to his home gardening. Over the years, a road, a park and a bridge have been named for Nuccio.
The legendary political figure died in 1989, with almost a thousand people standing for blocks to attend his funeral.