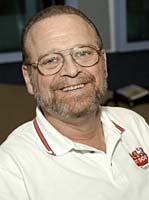 Mel Lohn
This Chicago native is still here after 30 years of dealing with a variety of crazed customers like Tedd Webb, Mel reigns as the "Wizzard of Wieners" at "Mel's Hot Dogs" on Busch Blvd.
Happily married to beautiful wife, Virginia for over 20 years, he is the proud father of three children.
Mel survived the Rock n Roll era as a tenor saxophone player, to become Tampa's own Pharoah of Franks.
If you are so inclined, Mel can be found working happily at his restaurant most business days. He relishes visits from old friends and survivors. Mustard up your energy and have a dog day with Mel.