Johnny Vander Meer
Cincinnati Red's Johnny Vander Meer, longtime Tampa resident in his retirement, made instant history for pitching two back-to-back no hitters against the Dodgers in a packed Ebbets Field in Brooklyn. It was the first night game ever played on the East coast.
Long before pitch counts, closers and call-in shows, a hard-throwing Cincinnati Reds lefty, in his first full season, achieved what could be baseball's most enduring pitching feat more than 65 years ago, June 15, 1938. He became the only major-league pitcher to throw back-to-back no-hit, no-run games.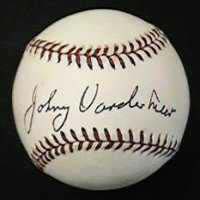 Vander Meer was born on November 2, 1914, and began his Major League baseball career on April 22, 1937, with the Cincinnati Reds. Starting at age 22, he played for 13 seasons on 3 different teams and ended his big league playing career in 1951.
As for the no hitters: First, the 23-year-old Vander Meer no-hit the Boston Bees 3-0 at Cincinnati's Crosley Field. Nobody reached second base as Vander Meer struck out four and allowed three walks, while facing just one batter over the minimum. Catcher Ernie Lombardi, a future Hall of Famer, doubled a man off first on a foul pop and hit a two-run homer to back Vander Meer's fifth consecutive victory in a winning streak that would reach nine games. It was the Reds' first no-hitter in 18 years, but their wait for another would be just four days.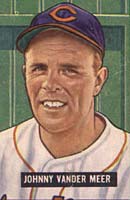 The Bees once owned the rights to Vander Meer, as did the Dodgers, his next opponent. It would be a wild night, and not just because Vander Meer had trouble finding the plate. The Reds were in Brooklyn for the first night game ever on the East Coast. The Dodgers sold more tickets than the capacity of Ebbets Field, and fire department officials had to help clear the aisles and control the overflow crowd. The game was delayed, forcing Vander Meer to warm up three times.
Among nearly 39,000 fans that night were more than 500 from Vander Meer's hometown of Midland Park, N.J. They came by the busload from the town of 5,000 and presented Vander Meer with a gold watch in a pregame ceremony.
Vander Meer lived out his retirement years in a modest home off South Dale Mabry near Bay to Bay. He could often be seen lunching with friends at Palio's Seafood Restaurant. He was quiet and somewhat reclusive at the end but always had time to talk to fans, who remembered his amazing baseball feat more than 60 years after the fact. He had many friends in the Tampa Bay area.
He died at his Tampa home October 6, 1997.