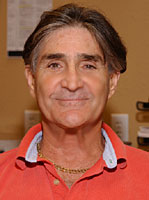 Joe Redner
Most know him as "Tampa's King of Adult Entertain-ment". Joe Redner is so much more than that.

This Chamberlain High alum is one of the smartest businessmen in the area's history. Joe is a multi millionaire not just because of the skin industry, but because he has parlayed good sound business acumen into other disciplines.

Joe also owns Xtreme Fitness Health Club, Production Services & Systems, and Specialty Malls of Tampa . This guy is a success in every capacity.

Joe has been added to the Tampa Bay Legends because he is a legend, as big as any legend in the Bay area. Joe has earned a reputation as a "City Hall fighter". The difference is Joe proves you can fight City Hall and win, he has never lost to them. They have tried to shut him down numerous times, each time an appellate court overturns the local judges and Joe ends up not only getting a huge settlement, but also his attorney fees.

Joe is also one of the most generous men on the planet, constantly providing funds for Joshua House, Police Athletic League, Children's Hospital, the Shriner's Hospital, ACLU, West Tampa Business Alliance and many other civic associations and private causes.

Joe is the founder of Voice of Freedom , he hosts a weekly TV program on local access and takes a very active role in the community. You can reach Joe at his web site: www.voiceoffreedom.com

Joe is now actively involved in a landmark lawsuit against the Secret Service , regarding their right to set up protest zones at presidential appearances. He was arrested at least 150 times in his career for civil disobedience, but always comes out on top. He knows the law better than most attorneys and judges, in fact they have differed to his interpretation several times in his classic court battles.

Joe Redner , truly a Tampa Bay Legend !