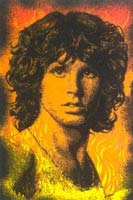 Jim Morrison
Jim Morrison, lead singer of The Doors and whose hit "Light My Fire" was the anthem for the late 60's psychedelic era, was born in Melbourne, Florida on December 8, 1943 and spent the first three years of his life with his parents in Clearwater.
After several moves that sent him up and down the East coast, he once again landed in Clearwater. Morrison suffered bouts of depression and expressed himself in absurd forms of art. At age 18, he entered St. Petersburg Junior College, where he studied philosophy and psychology. During that time he lived with his grandparents and, having no car, took the bus back and forth to SPJC from his home off Druid Road.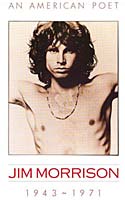 After his first year at SPJC, he left for California to live with a friend during the summer but was forced by relatives to return to Clearwater to finish his second year. He was an avid reader and poured over every book he could get his hands on in the area of psychology to try to gross out his grandparents but they were unmoved. At that time he began drinking and experimenting with drugs.
Morrison was a frequent visitor to Tampa, catching the Trailways Bus over the causeway, getting off at the downtown terminal and then walking west along Lafayette Street (now Kennedy Blvd.) to the House of Seven Sorrows Café, just west of the Hillsborough River at Parker St. Long since razed, the beatnik coffee house was a gathering for budding writers and Jack Kerouac was a frequent visitor. Jack Kerouac died in St. Petersburg at St. Anthony's hospital, in October 1969.
He was also a regular at coffeehouse and beatnik mecca Beaux Arts in Pinellas Park on 60th Street and about 77th Avenue. Thomas Bruce, then owner of the establishment, recalls Morrison reading his poetry to visitors on occasion.
The future folk icon was a loner, often hitching rides to Clearwater Beach and walking along the shore all night, stopping at times to read and other times to jot down notes to himself and lines for future poetry.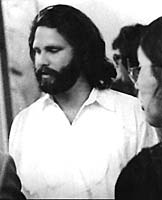 After graduating from SPJC with slightly above a "C" average, he attended Florida State University before once again taking off for California where almost immediately he formed "The Doors." As its lead singer and lyricist, he paved the way for a powerful gig in music history that made his brief life legendary.
Morrison got heavily involved with drugs and alcohol as did many of his contemporaries. On March 1, 1969, he was so drunk after having missed flights at three different airports to get to a concert at Dinner Key Auditorium in Miami he exposed himself during the performance. The entire band left but months later, Morrison returned to face trial for the infraction.
Before his legal problems could be resolved, he died of a heroin overdose in Paris, France July 3, 1971. He is buried at Pere-Lachaise Cemetery in Paris with such other luminaries as Oscar Wilde, Chopin, Rossini, Max Ernst and Maria Callas.