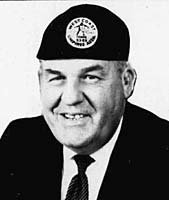 Jerome Sierra Jr.
Tampa had never before seen nor will it ever see another man like Jerome Sierra, Jr. He was an institution in broadcast and print media in Tampa for most of his 71 years.
Though Jerome was involved in every aspect of local youth sports, his legacy is that of possessing a kind and generous heart. His loud pronouncements belied the soft, gentle and generous man he was until the day he died.
At one time, Jerome had as many as six jobs he used to support his mother and grandmother with whom he lived on North Morgan Street in Tampa Heights.
He was an usher at the old Ybor City Ritz Theater (in the 50's and 60's) when it played first run movies; a little league, high school football and basketball official; a full time deliveryman at his uncle's leaf tobacco warehouse; a freelance photographer for the Tampa Tribune; Tribune Scoreboard operator; and Channel 13 sports film correspondent.
Jerome founded the West Coast Umpires Association and was active in every aspect of youth sports. He shied away from recognition but was nevertheless the recipient of dozens of trophies and plaques honoring him for his work with the youth of Tampa. Baseball greats Lou Pinella and Steve Garvey were among the many Jerome lent guidance to as teenagers.
There was nothing he wouldn't do for any young person who needed him. In 1962, he took a 14-year-old Tony Zappone by the hand and introduced him to The Tampa Tribune's new sports editor, Tom McEwen. He told McEwen that Zappone would be taking lots of sports pictures and he better use them...and McEwen did. It was the start of a long and colorful career in the media for the young Zappone...all because Jerome took the time to care. He helped many young people get similar breaks early on.
Jerome had class beyond his years. He was the only person on the planet who could walk into Channel 13's studios and hand "Salty" Sol Fleishman a sports news item while he was on the air. Each year, Jerome walked onto the live set without notice with a cake glowing with candles to celebrate Sol's birthday. As a young man, he was practically Sol's shadow at WDAE Radio and often took over his sports program.
You couldn't get angry at Jerome, no matter what he did. He wouldn't give you a word in edgewise.
Jerome was a visionary. When Tampa Tribune sports staffers started complaining about the volume of calls from people asking for high school football and basketball scores on Tuesday and Friday nights, he created another job for himself, the popular Tribune Scoreboard. The first day the paper announced the new service, the phones rang nonstop for five hours as an unprepared Jerome attempted to answer each call by himself. Helpers were hired for the next big sports night the following week and the service continued a span of almost 40 years.
The love of Jerome's life was Mary Lodato, whom he married in 1972. It was the first marriage for Tampa's premier sports and media entrepreneur and her first as well. After she died some 20 years later, Jerome became morose and gradually lost the drive he once had.
The number of friends Jerome has was incalculable. Each one could count on at least one cryptic handwritten postcard each year and special gifts of pens, candies, erasers, paper clips, scratch pads and other goodies he collected throughout the year to give at Christmas time. They always came in the mail or were personally delivered by Jerome when you least expected them.
He died in 1999 at age 71 of natural causes. Baseball Hall of Famer Al Lopez came to his wake early so he could be the first to sign the family's book.
There will never be another Jerome Sierra. If you didn't know him, you missed knowing a very special man and a very giving spirit.