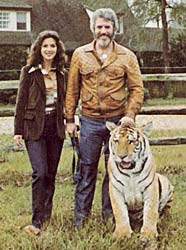 Gene Holloway &
Debbie Ponton
Gene Holloway was a legend in Tampa, owning the largest and most spectacularly furnished restaurant in the area, the SeaWolf Restaurant after helping found the Red Lobster chain. His wife was the beautiful former Debbie Ponton, an ex Miss Tampa who stood by his side and took care of the large number of exotic horses and cats they kept at their 200-acre Thonotosassa Ranch.
Every Bay Area television station sought to tape commercials and do live broadcasts from the plush SeaWolf. Busch Garden's visitors paraded to the restaurant in the evening, creating what sometimes was a two-hour wait for a table.
In 1980, Holloway ran for President and even formally registered with the Federal Elections Commission. Despite the $50,000 of his own money he poured into the effort he didn't get many votes but he got a lot of attention.
He also got lots of attention when he went under investigation for burning down his ranch home, pictured here. His car was in the garage and destroyed in the fire but his personalized State of Florida "HOLLOWAY" tag had been removed. He was later acquitted of arson in Federal Court.
He got even more attention less than a year later after he took out $16 million in life insurance and not long after faked his own death by drowning, having four friends call the coast guard to report he fell from a boat near Key West. After nearly a year, police discovered him in Toronto, Canada tossing around hundred dollar bills like they were going out of style... part of the $750,000 he had raised in Tampa prior to his trip.
Authorities brought him back to Tampa where he was tried for insurance fraud and sentenced to five years in prison by a Federal judge. He served about three years before returning to Tampa and then rapidly built and closed three new restaurants.
Holloway is now active in treasure hunting off the Florida coast. He and Debbie divorced over two decades ago and she happily remarried, now with a prominent Tampa attorney.
Sometimes truth can be stranger than fiction.