Dr. Ferdie Pacheco
At the tender age of 14 Ferdie Pacheco knew what he wanted to become. Ferdie was assisting in surgery at Trelles Clinic in his native Ybor City.
Pacheco was a brilliant study, and his hospital experience helped pave the way for a medical career that took him to Miami's poorest section. While in Miami, Pacheco opened a clinic to help the needy in Liberty City. He kept the clinic open until thugs burned it down in a race riot in the 70s.
In the course of his work in Miami Ferdie met Angelo Dundee and the rest is history. Dr. Ferdie became the 'Fight Doctor', the man best known as being in Cassius Clay's corner in the early days of his career. For those too young to remember Clay, he later changed his name to Mohamed Ali. 'Fight Doctor' became the title one of Ferdie's earliest books.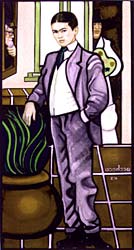 "The Mexican"
Ferdie was with Ali through the glory years, until he told Ali he could not box anymore because of damage done to his kidneys, when Ali refused to quit, Ferdie did. He refused to be part of the exploitation of the greatest heavyweight in history.
He earned a reputation as a top notch boxing commentator, working with some of the best in the business like Marv Albert doing NBC's boxing telecast. He has done fights for Showtime, HBO and ESPN as well.
Ferdie's life has been depicted 2 movies, Ybor's Joe Lala portrayed in one movie, and comedian Paul Rodriguez in another.
Pacheco's passion is art, and what an artist-painter he has become. Ferdie's works focus on the early days of Ybor City. Not only is he a talented painter, but Dr. Pacheco is also a terrific author with many credits, including his signature 'Ybor City Chronicles'.
His works are often displayed in La Gaceta, the areas tri lingual newspaper. Ferdie and wife Luz have also opened The Pacheco Gallery in Centro Ybor , where many of his works are on display and sold.
We have some of Dr. Pacheco's works on display here. Dr. Ferdie Pacheco, a true Tampa Bay Legend.
"Street Car"