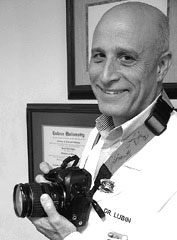 Dr. David Lubin
Dr. David Lubin has been in Family Practice in South Tampa since 1976, but he might be known more for his photography than doctoring. He's produced the Tampa Bay Events Calendar since 1992, featuring his award winning photography, as well as the major events going on in the Tampa Bay area. He also credits yours truly with helping to make him a successful photographer. His shots have appeared in the Tampa Tribune, St. Petersburg Times, Tampa Bay Magazine, and numerous other publications. He's the official Gasparilla Race and Marathon Race photographer.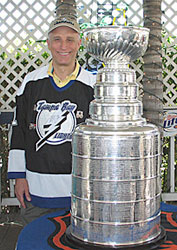 He's also an entrepreneur, being one of the original investors in Jack Newkirk's restaurant on Channelside, Newk's Cafe, situated across the street from the St. Pete Times Forum. "There's nothing more exciting than the crowds that were there during the Stanley Cup Finals," he says. But the best part of being part owner is "being able to get a table on a crowded night." Dr. Lubin was awarded the Tampa Bay Lightning's "7th Man Award" based on an essay he wrote, describing why he felt he deserved the award. He compared it to an addiction, which he says hockey is. He only missed two games this year, and by winning the award he was able to meet Marty St. Louis after a game and received his own Number 1 fan jersey.
And between seeing patients, shooting pictures, and attending hockey games, Dr. Lubin is a regular contributor to the Letters to the Editor sections in both the Tampa Tribune and St. Petersburg Times, and appears monthly (the last Thursday of each month) on Fox 13's Ask A Doctor program.
For his contributions to photography, medicine, and sports, Dr. David Lubin is proclaimed a Tampa Bay Legend.