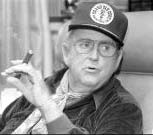 Parker was very loyal to the people in Tampa who had been good to him. He gave reporter Wilder the first exclusive interview with Elvis in 1956, a payback for all the times Wilder fell for his Humane Society publicity scams. Album cover and Elvis souvenir poster printing was given to Tampa's Renaldi Printing Company to the day in died...in return for credit extended to Parker early on when times were lean.
During his Tampa years, he lived on the Northeast corner of Lois Avenue and Obispo and was a frequent customer at Bay Hardware and other stores in the immediate area. His stepson, Bobby Ross, had a successful advertising agency in Tampa until his death some 20 years ago.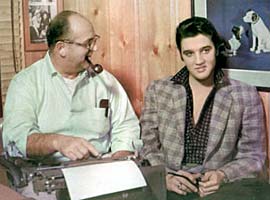 Parker brought Elvis to Tampa for concerts many times. In the early years, Elvis stayed at the old International Inn at Westshore and Kennedy Blvds. Once the Colonel forged a close relationship with the Hilton chain, which had exclusive rights to Elvis' services in Las Vegas and where Parker has an entire floor for offices and living quarters, the performer was secluded at the down-town Hilton on the Hillsborough River prior to his gigs at the now razed Curtis Hixon Hall.
Parker wasn't a real Colonel... it was an honorary title bestowed upon him in the 50's by the governor of Louisiana.
Tom Parker died in 1997 from a stroke. But before his death, he was successfully sued by the estate of Elvis Presley to have his 50 percent stake in Elvis' posthumous income significantly reduced.