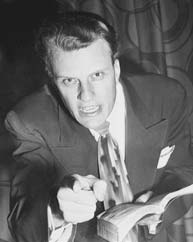 Billy Graham
Billy Graham, who made the Gallop Poll's list of the Ten Most Admired Men in the World 44 times since 1955, got his start in Tampa.
While attending Florida Bible College on the Hillsborough River in Temple Terrace, 1937-1940, he made frequent guest appearances on local religious radio programing...then required by the Federal Communications Commission. There was no television in Tampa in those days so his broadcast preaching was limited to radio stations WDAE and WFLA.
During that period, he made his commitment to evangelism on the 18th hole of the Temple Terrace Golf Course and took to the streets of Tampa to develop the style that made him famous and personal religious advisor to 10 U.S. Presidents.
He preached often at DeSoto Trailer Park in Palmetto Beach, south of Ybor City, and along the skid row section of North Franklin Street near downtown Tampa and just south of the current expressway overpass. A historical marker commemorating his activities now stands in that area on Florida Avenue.
While in Tampa, he was often a guest preacher at a church on North Armenia Avenue just south of Columbus Drive and attended Sunday services there as well.
Often called "Pope of Protestant America," he now lives in retirement in the North Carolina Mountains outside of Charlotte and has turned his ministry over to his son.
His last evangelical crusade in Tampa was three years ago and at that time he said it would be his last in this area.