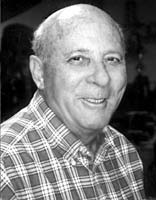 Bernie Epstein
Born: June 7, 1927
Brookline, Massachusetts
Education:
1. Brookline High School
2. University of Miami-2 years
Bernie moved to Tampa in 1949
Community Involvement:
1. J. Clifford MacDonald Center-Center for the mentally
and physically handicapped.
A. Board Member and on the Board of Trustees for
over 30 years.
B. Board Member Emeritus since 1990.
C. Volunteer Swimming instructor for 3 years.
2. City of Tampa
A. Member of Recreation Board for 18 years
B. Chairman of Recreation Board for 8 years
C. Member of City of Tampa "Sports Hall of Fame" inductee.
3. University of Tampa
A. Founder of the University of Tampa Quarterback Club.
B. Member of Athletic Hall of Fame for contributions to all sports at the University.
4. Jesuit High School
A. Past President Dads Club
B. Past President Booster Club
C. Past Member of Presidents Council
D. Honored for "Outstanding Contributions" to the Jesuit Program in 1992.
5. Tampa Sports Club
A. Past President
B. Member for 36 years
C. Founded the "Meet the Buc's Luncheon" which raised thousands of dollars for the
J.Clifford MacDonald Training Center. This was held over 16 years.
6. Boys & Girls Clubs of Greater Tampa
A. Named "Citizen of the Year" in 1987 for his contributions to the Club and the City
of Tampa.
7. University of South Florida
A. Past Member and past Board Member of the Green Jacket Club.
Bernie is a native to Boston, Mass. After serving in the U.S. Navy during WWII, he attended the University of Miami. After 2 weeks of training, Bernie was sent by State Vacuum of Florida, Inc. to manage the branch in Tampa. His pay was $15.00 per week plus commission. His store was the only store in the chain of 36 stores throughout the Southeast and some in Canada to survive. He bought the assets to the store in 1952. Through hard work and determination, Bernie now has the largest vacuum cleaner store in the country. He just resigned off the Board of Directors for the Vacuum Dealer Trade Association(VDTA), after serving for 18 years. He also was inducted into the VDTA Hall of Fame in 1994 for outstanding contributions to the industry.
Bernie has been bestowed upon many awards, among them are the Sertoma "Service to Mankind" award given to the outstanding citizen in Hillsborough County, for contributions to the community. He has also been named "Citizen of the Year" by both the Boys and Girls Clubs of Greater Tampa and Florida A & M University.
Bernie has always worked for the betterment of the City of Tampa which he loves so much. He served on the past Super Bowl Task Force Committee and was chosen to escort Forest Gregg for the week he was here. He has always been involved in the community and especially in the Sports Community, always helping coach Little League and P.A.L. Football programs. Bernie has also been active in his Synagogue serving as president of the Mens Club.
Bernie's latest project has been with Kyle Romano. Kyle, now 13, at age 15 months was stricken with a rare virus. To survive Kyle had to have his arms and legs amputated. Kyle's parents grew up on Bernies street. Kyles parents are hardworking people but were having a hard time financially. The door ways in the home were too narrow to get Kyles wheelchair through, the home was getting too small and was not handicapped friendly. Bernie organized a team of workers, and totally remodeled his home. They expanded the home and remodeled the inside to make it handicapped friendly for Kyle. One year later and estimates of over $100,000 to redo the home, Kyle had a more friendly home to go home to, at No Charge. Bernie also had the University of South Florida Engineering school design a Bike for Kyle. According to Betty Castor, then president of USF, this got the University more positive publicity nationwide than anything else. Bernie's big heart came through for Kyle as it has for his beloved Tampa.
Bernie, recently widowed after 50 years of marriage to Betty, has 3 children, Debbe, Donna, & David, 6 grandchildren -- Denise Doug & Melissa Furano, Jennifer & Joe Epstein, Daniel Bernstein.