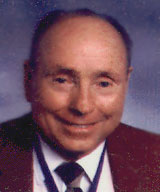 Tom Vann
Born in Durant, Florida, this feisty fireball went on to become a City Councilman in Tampa. Tom Vann is the man who could not be bought, he stuck to his principles, though some say it may have cost him his political career, Tom Vann does not care, he did it his way.

Tom is very active in Tampa Bay, chairing the Flag Day festivities every year, working with various charities, and still playing and teaching racquet ball several days a week. He is a champion player. When Tom is not playing, he is working out.

Tom Vann loves Tampa, and Tampa loves Tom Vann, truly an outstanding citizen. Tom is very active in the Scottish Rite of Freemasonry, holding a 33rd Degree, and Chairman of the Education and Americanism Committee.

This United States Army veteran also holds a black belt in Judo.

Tom is married to Bernice Vann, they have 2 children, Tommy & Linda, and 6 Grandchildren, and 2 Great Grandchildren.

For his service to Tampa and Hillsborough County, Tom Vann is designated a "Tampa Bay Legend".