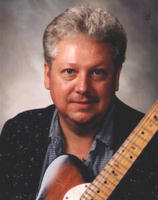 Tommy McCoy
In the hands of guitar guru Tommy McCoy, deft jazz-informed archtop pirouettes alternate with hot 'n' spicy Texas-style Fender-bending, all delivered in a tone best described as "succulent," flavored with an attack and attitude that's pure down 'n' dirty greasy.
A veteran of the Florida music scene, playing first with the Screaming Bluejays in Orlando and then with the Telephone Kings in St.Pete, McCoy is also one of the select few musicians who were fortunate enough to know and play with the late Stevie Ray Vaughan. A 1981 meeting in Cocoa Beach brought the two together where they discovered they had a lot in common: they were born within a month of each other, they both had older brothers who played and needless to say, they both were passionate in their love of the blues.
At the time, McCoy owned a small chain of used record stores, made some blues compilation tapes for Vaughan, cementing a friendship that lasted for years, cut short by Vaughan's tragic death in 1990. McCoy was able to pay tribute to his fallen friend and fellow axeslinger when he recruited Tommy Shannon and Chris Layton, Vaughan's bassist and drummer, to perform on Love 'n' Money , McCoy's solo debut, released in 1996.