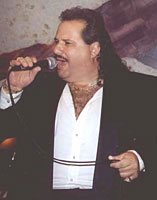 Tommy Marra & The Saints
A star was born on April 10, 1955, in Brooklyn, New York. Music has always been a part of Tommy Mara's life. As a young child, he sang his heart out while his grandmother played the piano. As a teenager, he played the drums and sang in a local rock band. Even then, his vocal ability and stage presence turned heads.
Tommy Mara's brilliant musical career encompasses several genres of music, many incredible on-stage experiences, and definitely has made his place on the oldies circuit.
Mara's career does not just encompass oldies music. He has lent his vocal genius to several bands throughout the years. After moving to Florida, he joined a Southern Rock group, playing the drums and singing. From there he moved onto another rock group that specialized in original music. Perhaps Tommy's farthest stretch musically was when he joined a country band. Knowing very little about country music, he still left a great impression on the people he touched.
His next big step was to the Top 40 scene. He wowed himself and the audience with his vocal ability. That is when he caught the eye of Kenny Galeano. Kenny was the leader of an oldies group, The Saints. They were looking for some fresh talent to front them. After a little convincing, Tommy signed on. The Tampa Bay oldies circuit hasn't been the same since then!