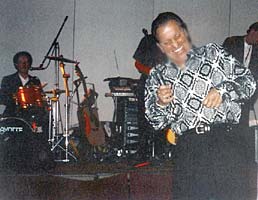 Tom Saitta
(The Entertainers)
Tom Saitta, was lead trumpet with Vic Waters and the Entertainers. Tom was with the band from inception till the end in Tampa at the 2001 Space Odyssey on Dale Mabry in March of 1972.
Tom lived in Clearwater and graduated from Clearwater High School in 1960.
He says "I have recently been re-united with Vic through the miracle of email. We have not seen each other in over 34 years. He has been emailing me and made me aware of your website. All I can say is WOW, what an amazing job you have done."
"I am almost sixty one years old now and live in Las Vegas, Nevada where I have been in the car business for 31 years since I left music. I own three Automobile dealerships in Southern Nevada."
"Four years ago, I started playing and singing again after all those years. I now play and sing jazz and old standards just for fun at a jam session once a week here in Vegas."
"Great Job Tedd, I am overwhelmed with all the info about the Tampa bands."