Todd Plant
Singer, songwriter, recording artist, guitarist, frontman - Todd has worn many hats in his 30 years in music, and there's still a lot more to come…
After graduating from Tampa's Plant High School, Todd joined the US Navy Seabees, working in construction and entertaining servicemen and women on weekends on bases all over the world. After his honorable discharge, he worked in many Tampa Bay bands: Scymitar, Zion, Pleazure Victim, Vieira Terra, Thunder, Todd Grubbs' Universe, Eyewitness, and recording projects for Lucian Blaque, Kamelot, Monarch, Anomaly, and even a cameo on a Savatage CD.
Plant's credits include recording and/or performing with former members of The Doobie Brothers, Steely Dan, Chicago, Kansas, Rick Derringer, Buddy Miles (former Jimi Hendrix/Santana drummer), and has worked with former producers of Metallica, Deep Purple, and Sly & the Family Stone to name a few.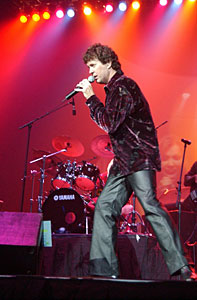 Heard by millions as the singer of Hulk Hogan's theme song "American Made" that was played on TBS/TNT networks for years, Todd has also recorded songs on dozens of CDs released worldwide and toured Europe promoting some of them. His original band Millenium was featured on MTV Europe, had their videos aired on Japanese TV, and appeared on a live prime-time variety show in Munich.
Plant really kicked things into gear in 1999 when he joined former Doobie Brother Chet McCracken's Band and later fronted Santana tribute band Supernatural, performing at festivals (Ribfest, Busch Gardens, Guavaween, Gasparilla, Super Bowl Superfest, Mardi Gras, etc.), bike events (Daytona Bike Week, Myrtle Beach Spring Rally, H.O.G. parties, etc.) and casinos all over the country.
Todd has been staying busy fronting Todd Plant's Classic Rock Experience, Doobies tribute band Black Water, original progressive rock band Cryptic Vision, and singing in the corporate show band Southtown Fever.
You might even hear his voice on a commercial jingle or two – now all this guy needs is a day job!
For more detailed info, photos, song samples, visit his website: www.ToddPlant.com