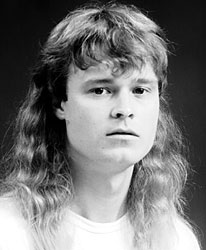 Todd Grubbs
Very talented guitarist from Tampa Bay, had several CDs out, his 'Guitar Parts' from 1989 features some of the best guitar work I have ever heard.
Truly a gifted musician who should have hit higher, got pushed to the back of the room by all the dance music and hip hop that hit at the same time he was coming out.
Todd's CDs are still available at certain stores like Sound Exchange, pick up a couple and enjoy.
He now has a cool classic rock band with Bo Smith (3 Green Windows). You may remember him from Tragic Rabbit... Todd Grubbs is an internationally-known Instrumental Rock & Fusion guitarist. The new CD "Beautiful Device" is a fine example of the culmination of years of experiences, experimentation, and passion that has brought Todd to where he is today.
Web site: www.toddgrubbs.com