The TopNotchers
WHBO Photo (L-R)
Arnold Newman (Lead Guitar)
Frank Evans (Vocals & Rhythm Guitar)
Vern Stokes (Bass)
Roland Newman (Fiddle)
Frank Evans started playing country music in Tampa during the early 1950's. His musical group eventually was named "The TopNotchers". During the late 1950's, the TopNotchers played live radio shows on WHBO, a local country western music station in Tampa. The TopNotchers also played a number of events with Ernie Lee, a local Tampa WTVT television celebrity.
Frank Evans and the TopNotchers had a number of recordings released on Starday Records in the 1950's. Frank moved on to Nashville in the early 1960's, establishing himself in session recording and tour bands. He toured with a number of backup groups including Skeeter Davis, Hawkshaw Hawkins, and Jett Williams. After 30 years in Nashville, Frank returned to Tampa where he passed away in 2000.
Vern Stokes lives in Tampa after a 32 year career with IBM. Roland Newman lives in Thonotosassa after a 30 year career with Tampa Electric. Arnold Newman worked in the Tampa area and passed away in 2008.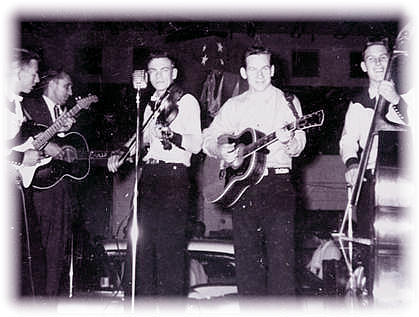 Ernie Lee Photo (L-R)
Arnold Newman
Ernie Lee
Roland Newman
Frank Evans
Vern Stokes
* Submitted by Vern Stokes (vernstokes@verizon.net)