JOHN DeLISE ld vcls A
RONNIE ELLIOT bs A
SPENCER HINKLE drms A
BUDDY RICHARDSON ld gtr A
RONNIE VASKOVSKY gtr A
45:
1(A) King Bee/Girl Of Mine (Providence 415) Jul. 1966
From Tampa, Florida, The Soul Trippers were previously known as The Outsiders, but when they changed labels to Laurie subsiduary Providence, they were persuaded to change their name in order to avoid confusion with the Outsiders from Ohio.
Their rootsy blues-punk take of James Moore's (I'm A) King Bee is so darn cool and convincing that it shifted 20,000 copies before it was discovered they were a white band, which resulted in it getting pulled from local radio station playlists (reverse racism?). Judge yourself - it has reappeared on Mindrocker, Vol. 5 (LP) and Psychedelic States - Florida Vol. 2 (CD).
The band would evolve into Noah's Ark. Buddy Richardson would form White Witch who released several 45s and two LPs on Capricorn in the early seventies.
John DeLise also played in Those Five and The Rovin' Flames.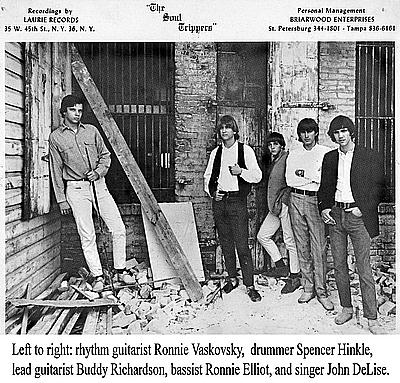 ---
Update:

Ronnie Vaskovsky, rhythm guitar player, age 57, of Wesley Chapel and formerly of Tampa, Florida, passed away January 12, 2004.
---