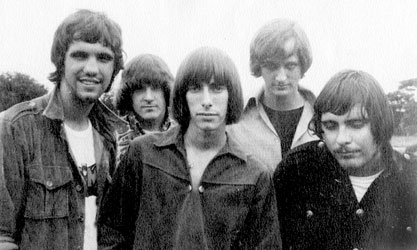 The Rovin' Flames ~ 1967
A Tampa, Florida, band whose best known song How Many Times, is a typical punk protest song bemoaning girlfriends and society. Composed by Uncapher and Delise it would later be covered by the new psychedelic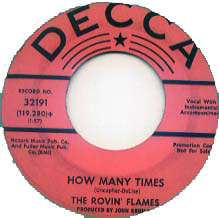 outfit Plan 9 on their Frustration album.
HARDY DIAL vcls • JERRY GOFF drms • J.R. MIETTA bs
JIMMY "MOUSE" MORRISON ld gtr • JOHNNY ROGERS organ
JOHN DELISE vcls • DAVE TABAK drms • PAUL BATTLE gtr, vcls
45s:
1 - Gloria/J.J.J.P. (Fuller 2627) 1965
2 - I Can't/I'm Afraid To Go Home (Boss 002) 1966
3 - Now That Summer Is Here / It's Nothing New (Tampa Bay
BC-1110) 1966
4 - Bo Diddley/Seven Million People (Tampa Bay BC-1111) Jun. 1966
5 - (B) How Many Times/Love Song No. 6 (Decca 32191) Sept. 1967



The Rovin' Flames 45s are uncommonly elusive. Love Song No.6 also appeared on the
very rare Bee Jay Video Soundtrack sampler LP (Tener 1014) in 1968.
They also backed The Forvus, featuring Brooke Chamberlain, on their sole 45.
Hardy Dial was also in The Outsiders/The Soul Trippers as had his replacement, John DeLise, who would go on to Those Five.
John Delise is back in Clearwater after 17 years in New York. He is currently writing music and looking for some friends to get together and create new magic.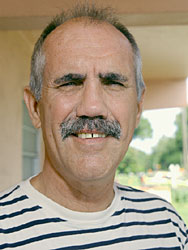 Lead Singer John Delise ~ 2003
Update: 10/03/2004
We start this edition with more sad news, John Delise, former lead singer for many local rock bands in the mid to late 60s, was found dead in his Clearwater apartment Sunday, October 3, 2004. Cause of death was not immediately known, but John had been complaining of chest pains for the last month.

Delise had fallen on hard times since coming back to the bay area 2 years ago. He had been living in New York City for some time and had trouble adjusting to the serene scenes of Pinellas County. Unemployment woes, bad health, and a broken romance contributed to his depression.

A stroke of luck appeared on the horizon, and that was re-connecting with Chet Bennett, a record producer who had known Delise since the mid 60s when John was in his hey day. A meeting late last year resulted in Bennett wanting to do an album with John.

Delise had composed a haunting melody entitled "Back To Stardust", a song depicting his unrequited love for his soul mate. John recorded a demo with his son on guitar, and it showed promise, it demonstrated Delise had a lot of music left in him.

The 57 year old singer-songwriter played with The Outsiders, The Rovin' Flames, The Soul Trippers, and Those Five, and was in the process of forming a local group with former Raven's guitarist Kent Pearson. Pearson was the one who contacted John's landlord and told him his calls were not being returned. The landlord then went to the apartment, John's body was found on his bed, paramedics were summonsed and Delise was declared dead.

Delise leaves a son, his brother Roy, a soul mate Marilyn and a stepmother Doris. He is preceded in death by his father Sal, and brother Fred. No word on funeral services, but his body will be cremated per his wishes.

Delise is the 2nd member of The Outsiders to pass away in 2004, Ronnie Vaskovsky, rhythm guitar player, age 57, of Wesley Chapel and formerly of Tampa, passed away January 12th.
Rest in peace John,

Tedd Webb
Update: 10/06/04
John Delise will be missed by all because he had a lot to say that would benifit those who heard his "new music". It was not the same old "I love you stuff" but lyrics and melodies that had a twist to them and presented life thru a different sent of mature eyes as only a person in pain and a sense of humor could have at the same time.
The demos that Teddy brought to my attention from John were so professional in its writing that John Delise was the new Jim Croce and there hasn't been anybody in that area at all in 30 yrs . John wrote about everyday but in that unusual earthy intelligent and witty method. To bad he couldn't have gave us that final performance.
Chet Bennett