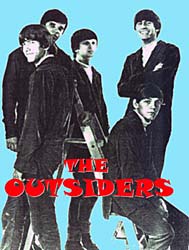 The Outsiders
---
Update:

Ronnie Vaskovsky, rhythm guitar player, age 57, of Wesley Chapel and formerly of Tampa, Florida, passed away January 12, 2004.
---
The Outsiders
HARDY DIAL vcls A
RONNIE ELLIOT bs A B
SPENCER HINKLE drms A B
BUDDY RICHARDSON ld gtr A B
RONNIE VASKOVSKY gtr A B
JOHN DELISE vcls B
45s:
1. She's Coming On Stronger/Just Let Me Be (Knight 103) Dec 1965
2. Summertime Blues/Set You Free This Time (Knight 104) Apr 1966
A different five-piece from Tampa, Florida, which formed in 1964. Bassist Ronny Elliot joined in 1965 from another Tampa band The Raveons and Hinkle had played in early line-ups of Tampa's Tropics. They developed a lot of local support and cut their first 45 at Tampa's H & H Avenue. She's Coming On Stronger is a pretty good pop/punk piece with some upfront drumming and they followed it with a ripping cover of Eddie Cochran's Summertime Blues.
By now John Delise had replaced Hardy Dial on vocals. In 1966 they were signed to the Laurie Records subsidiary label Providence who changed their name to The Soul Trippers because of the better-known Ohio Outsiders. Then in 1967 they changed name again to Noah's Ark releasing two 45s for New York's Decca label.