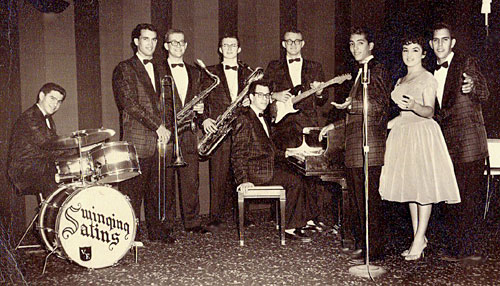 Swinging Satins ~ 1960
Photo left to right,
Drums . . . Victor Fojaco ---Married Eva LaRusa--Tony LaRusa's sister.
Trombone . . . Sal Garcia ---Terrific entertainer and promoter in the Sarasota area now. He has a tremendously talented group called "OMNI" for the better part of 20 or more years.
Tenor Sax . . . John Anderson ---Phenomenal Sax ---I haven't the fainted idea where he is or what he's doing now.
Bass Sax . . . Jim Gillum ---Was a great Bass Sax-was the Sheriff of Pasco County.
Guitar . . . Charlie Ensinosa ---terrific at guitar and was a kick ass linebacker at Plant High School
Piano . . . Jack Maniscalco ---He was great at piano. Now a prominent Neurosurgeon in Tampa
Lead Male Vocalist . . . Jose Fernandez --- Presently works as a Physicians Associate at the VA Medical Center Bay Pines. He Sang most of the slow sexy tunes back then and is now the 1st Tenor and Business Mgr. of an excellent vocal group in this area that specializes in Doowop, R&B and Motown.
Lead Female Vocalist . . . Geraldine Ferlita (Daughter of a Prominent business leader, "Ferlita Beer Distributors". I believe she married Manny Fernandez, heir to the then popular Biff Burger Chain.
Lead Male Vocalist . . . Carl Fernandez ---Yep my Brother! he can still sing but prefers the Gulf of Mexico in his 19 foot Seabreeze.