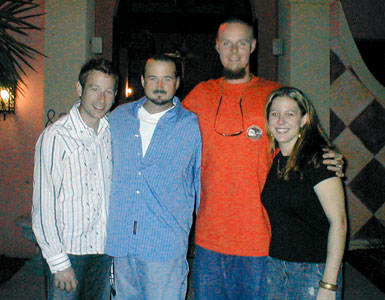 Sister Sara
Even in the history of notable bands that enjoyed commercial success in the music world, there are not many that engender the bond, loyalty and even friendship felt by fans of Sister Sara.
In the early 1990's, three young men met while performing in various bands for a company that toured schools throughout the United States. The purpose of the tour was to meet students on a peer level and make a positive impact on the future of our youth. Each of these three young men decided that they would pursue a career in music with a band, but only with those who had experienced two full years of touring. The tour experience was grueling as it required the bands to perform two, forty-five minute, assemblies at different schools and an hour and a half concert each night at yet another school each day. During a five day work week, each band would travel an average of two thousand miles and would perform fifteen shows and, throughout the ten month long tour, would perform for over three hundred thousand people. The bands were paid based upon the number of students that would buy tickets for the concerts each night and that return was based on how excited the students were and about the band after the day performance. These three young musicians knew how to run onto a stage at seven o' clock in the morning in front of a sleeping, or even dead, audience and leave them on their feet and screaming for more just forty-five minutes later. The three also knew that they never wanted to take a stage with someone who couldn't perform to that level. Thus, they decided to form a band together.
Chad Miller, Doug Webber, and Michael Dunn began writing songs and rehearsing as a band in 1992. After a full year of writing, rehearsing and recording, they believed they were ready to take their show to the public. At issue though, was the fact that the group played only original songs and had no repertoire of songs by other artists. Every club manager and owner the guys spoke with said "no covers, no booking". Some friends and fellow artists that the guys knew from the school tours formed a little band called UROK (later becoming The Hazies) and they asked the guys to open for them at Killian's Rock Café in Ybor City. The guys decided that a name should be thought of for the purposes of performing the show and Chad's sister, Sara, was visiting from Omaha, Nebraska that week. The guys all loved Sara as she was very sweet, bright, down to earth, and unassuming. They decided, for the time being, to call the band Sister Sara. The show at Killian's was crazy. The crowd completely flipped out over the show and the songs. Jane Mckee was the assistant manager at Killian's that night and decided to quit her job in order to be the band's booking agent. (Over ten years later, Jane is still a booking agent with no regrets.) Two weeks later, Sister Sara was performing in Tampa Bay area clubs four nights a week.
Sister Sara's music was a true fusion of Latin rhythms, folk rock, R&B, and soulful harmony. For the lone melodious instrument Chad played an acoustic guitar, for drums, Doug played congas, bongos, timbale, cymbals, and a homemade kick-tom. Michael covered the rhythmic (hi-hat) parts using shakers, tambourine, cowbells, and wood blocks. The guys all sang and three part harmonies soared throughout Sister Sara's songs. With great sticky hooks, infectious rhythm, and lyrical themes that were decidedly conservative in message, Sister Sara became a mainstay in clubs, arenas, and musical events throughout the southeastern United States. The combination worked a moving spirit in every performance and garnered the band a huge fan base made up of people from all walks of life.
Some years later, the band listened in amazement as a young bassist named Alicia Crawford played their music with them on stage during a show in St. Petersburg. The show was hosted by the legendary Mason Dixon and Alicia played with the band at his request. The guys were immediately drawn to her and became big brothers and band-mates to the very talented sixteen year-old.
Each member of the band has gone on to pursue life after the band, but every one of them will tell you; they had a great run and an experience that will forever bind them together as Sister Sara.