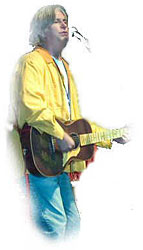 Ronny Elliot
Some lights flash and some bones shatter. Some eyes are made for rolling. Rock'n'roll was born in 1947. Ronny Elliott was, too, in Birmingham, Alabama. Something happened in Roswell, New Mexico in that year, also, and the air force remains vague about that occurrence.
By the time his tonsils were removed and the second grade was underway the little tyke had moved with his mother and grandmother to sunny Florida; Tampa, to be precise.
Hank Williams had automatically played when the radio came on in Birmingham. By 1955 Maxine Elliott had begun to bring home 45's of Big Joe Turner, Roy Brown and Wynonie Harris for her eight year old. The proverbial first guitar came into play around this time. In 1956 she took him to a show called "The Biggest Rock'n'Roll Show Of 1956," at the armory in Tampa. What an understatement. Stars included Bill Haley and the Comets, Frankie Lymon and the Teenagers, Big Joe Turner, Lavern Baker, the Platters, the Teen Queens, Clyde McPhatter and the Drifters and Bo Diddley. Ronny never recovered.
Fast forward to 2004 and the Tampa Flash does what he was called to do. He writes, records and plays his brand of hillbilly soul music and preaches the gospel of rock'n'roll around the world.
He's had his share of flop records on major and minor labels. He's quit for years at a time. He's worked with most of his heroes and has stories that he's tired of telling. His work is an acquired taste or just weird, depending on whom you ask. TIME OUT LONDON ponders the proportions of his audience and concludes that, "He don't suck no corporate cock. He won't pull his panties down for just anyone."
The primitive rocker considers that he is nearing his prime. He's released six cd's in the last eight years and is currently working on two new ones as well as a dvd. He has played festivals across the states and Europe and claims to enjoy his work at some mystical level. It all sounds like crap but the old guy seems so damned sincere.