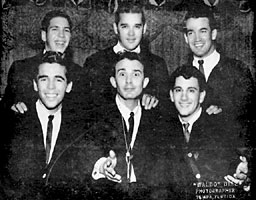 Rodney & The Mystics ~ 1963 • Front Row L-R: Roy Garcia, Frank Provenzano, & Rodney Justo ... Back Row L-R: Jerry Alfonso, Emelio Garcia, & Sam Garcia
Rodney & The Mystics
They were one of the hottest bands to come out of the West Tampa-Ybor City hoods. Rodney Justo & guitarist Roy Garcia led this gang described as the tightest, most professional of the local bands in the 1962-65 era.
The band became the house band at the Clearwater Auditorium, home of the WLCY Super Star Spectaculars. Entertainers like Roy Orbison, Gene Pitney, Bobby Vee, Neil Sedaka, Ray Stevens and all of the top acts of the day were back by Rodney & The Mystics when they played in town.
Rodney & The Mystics were always battling another local band, The Rockers for local adulation. It was indeed the 'Golden Era' of local live music in Tampa Bay.
CLICK HERE to view Rodney Justo's page in our "Where Are They Now?" section.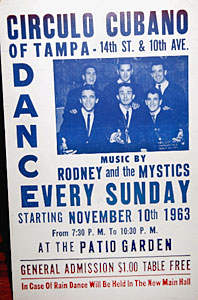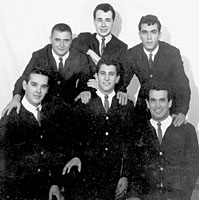 Rodney & The Mystics ~ 1962 • From The Bottom Left To Right: Jerry Alfonso, The lovely Rodney Justo, Sam Garcia ... From The Top Left To Right: Henry Cabrera, Jon Wildes, Joe "Pepe" Longo