Robin Sibucao
When I was 11 years old, I used to sneak into the Clearwater WLCY Star Spectacular shows and watch all the great Tampa and St. Petersburg musicians. Most of the time, our local bands sounded better and had better players than the stars headlining the shows. Although my mom and dad had already given me a little acoustic guitar, these shows pointed me towards an electric guitar and, more importantly, to be part of a band. That opportunity came just a few months later when I passed an audition to join the Tampa band, The Paragons. It was a time when we used to all plug into one small amplifier (guitars, bass, accordion and microphones) and sit behind music stands reading charts and wearing matching blazers and continental ties. Our six piece band played most of the Tampa Recreation Centers (Seminole Heights, Interbay, Gary, Forest Hills) and school dances and, for most of us, was our intro-duction into what it was like to being a band member. We played everything from show tunes to standards mixed in with Top 40 of the day.
After the Beatles grabbed all of our hearts, I broke off to form my own band, The Jesters IV, with the drummer from The Paragons, Lou Facenda, along with his brother, Tony and various rhythm guitarists. Local NBC affiliate, WFLA-Channel 8, used to host a
weekly teen dance show, High-Time (Jack Stir and Carol Kelly), that featured a different local high school, or junior high school, every Saturday afternoon. The Jesters IV got a lot of air time on that local TV show and that helped us book more dates around the Tampa Bay area. As the Band changed music directions and members we played places like the Surfers Club in Maderia Beach, The Jokers Club in St. Petersburg and almost all the Recreation Centers around Tampa. Around 1966 Benjie Cesario, bassist, joined me and we added Pete Rumore on drums and Mike Robinson on rhythm guitar. This version of the now Jesters found a steady gig at Brandon Teen Town where our band alternated with a popular band, The Savages, every other Saturday night to, what in those days, were big turn outs.
The popular WALT-Radio AM disc jockey and local personality, Marv Ray, would spin records and MC in between our sets at Brandon Teen Town. We struck up a friendship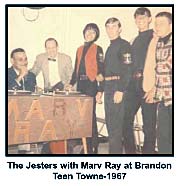 and began to do other dates around Tampa together. At the same time, the Jesters had recorded a 45 record (Fuller Productions) that became pretty popular. The song "She Lied" was actually voted by listeners' postcard response as the favorite local single on WALT Radio a few times. Our band thought that was pretty neat! (Jesters songs are part of a compilation CD available on Gear Fab Records)
To this day, I still get emails and letters from people around the country that ask about the Jesters. They are always interested in how kids, that were so young, managed to get into the whole "Band Thing" and play dates consistently, rehearse, pick certain tunes or, what it was like to perform on a local TV show with your band, that in those days, was considered terrific if you were a teenager.
By this time, the band was letting me sing almost all the tunes and play lead guitar on Stones, Beatles, Zombies, Yardbirds, Searchers, etc. songs. But our band knew we were primarily a dance band so we were also playing a lot of Young Rascals mixed in with some Motown hits to keep people on the dance floor.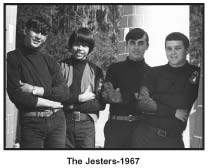 Once I got to High School my voice and music direction changed. I started to lean towards Paul Butterfield, Electric Flag, Hendrix, Cream and more R & B type songs. Along with Cesario, we formed a new three piece band, The Toy Shoppe, with Drummer Doug Wingate, that played dates like King Solomon's Mine, High School dances and USF parties. About this time I was beginning to hang around with more serious musicians that influenced my musical direction and helped me think about music more seriously than what was popular and on the radio.
Rodney Justo was the first "real singer" that completely changed my attitude about being in a band. Rodney's voice was that terrific. Justo had "the pipes" and credibility to get me listening to everything from Burt Bacharach arrangements to Gene Pitney to the
Small Faces and Blood Sweat and Tears. To this day there is no better singer for me than Rodney Justo. I give him a lot of credit for opening me up to the world of music and not just hanging on to AM radio hits. During my days at King High School I experimented with horn bands, Southern Comfort being one, and jammed a lot with all kinds of players at the local musician hangout in those days, Johnny Baio's Music Store on Armenia in Tampa. In 1968 I traded in all my guitar amplifiers and guitars and settled for a Fender Super Reverb amp and Gibson ES-335 guitar. I still have that ES-335 and always will. About this time is when I really began concentrating on my singing.
When I graduated from King High in 1970, I immediately headed to Los Angeles with a band that played pri-marily High School Assembly Programs and Evening Concerts, Free Fare. The intent was to sign a recording label deal. The band created a strong regional following throughout southern California and played to young audiences of 2000-4000 nightly throughout the region. When no record deal came along the band members went sep-arate ways. I stayed in Hollywood and started a band called Shuffle with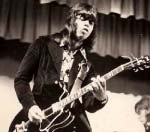 Robin with Shuffle, LA 1973
drummer Thom Mooney, formally of Nazz, vocalist Rick Fitts and bass guitarist Terry Casburn. The band moved away from cover tunes and started performing orig-inal tunes that were guitar based and Pop oriented. Recordings were done with another label deal "just around the corner". Musical wizard, Michael O'Martian (Steely Dan, Vince Gill. Etc) actually recorded with us on a song and helped our engineer, Jim Lowe (Electric Prunes) on our demo cuts. After touring for another 18 months, no record deal in sight, I was ready to head back to Tampa.
I returned home to Tampa in the early 70's and got married. I went back to school,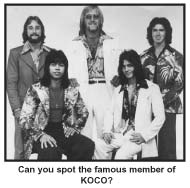 took on a full time job at Cutro's Music, in downtown Tampa, and joined up with keyboardist-David White, Drummer-Mark Keur, Percussionist-Anthony Barcello and Bass guitarist-Terry Bollea (yes, the Hulk Hogan today). We named our band Koko and played at Skips on Maderia Beach as well as the Courtroom in Clearwater as we went to school or worked during the day. The band did mostly YES, Santana, Todd Rundgren and actually a lot of R & B tunes as well. Koko found a lot of success playing in Gainesville and around Florida. I had to eventually leave the band. Between school, a full time job and a marriage I ran out of energy and I really didn't enjoy playing nightclubs anyway.
For the next few years I worked in local music stores and played on weekends with a four piece band, Toulouse. Benjie Cesario (Jesters) and I reunited after many years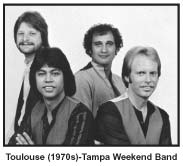 along with Mark Kutash-Keyboards/Sax and Don Orr on drums. Eventually Bill Peterson joined as our drummer after Don Orr left for college. Toulouse worked one-nighter dates around Florida for almost five years playing weddings, fraternity parties and local events. At the same time, I was working for the loudspeaker company BOSE Corporation and traveling internationally throughout the week and then would return home to play with Toulouse on Friday and Saturday nights. Eventually Toulouse morphed into Benjie Cesario and me working as a duo and we renamed ourselves, Digital Radio (because we began using keyboard sequencers to play along with). In 1996 I was promoted at BOSE and was required to relocate to the Boston area. I remained with BOSE until 1999 when I moved to Seattle and became COO of PlayNetwork, Inc., a creative entertainment company that supplies custom music and high performance sound systems for customers like Starbucks Coffee, Chili's restaurants, Abercrombie and Fitch, Finishline, Krispy Kreme, CHICO's, etc. PlayNetwork works very closely with all five major record labels and hundreds of independent labels.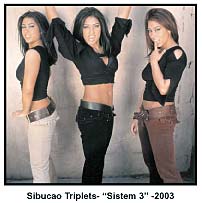 When I moved to Seattle I recruited saxo-phonist / keyboardist - Lance Abair (Entertainers band) and Drummer-Craig Carman (Loose Change band) to also work with me at PlayNetwork. The three of us make sure we make time to set up our equipment and play our instruments whenever we can. During the last twenty years, I have managed to raise my adorable triplet daughters that now live in Hollywood, CA. They are working on their own record deal and going by the name of Sistem3. Check them out….they are fabulous! So no matter where I move, or what I do, music and Tampa seem to remain a constant in my life. One thing is for sure. No matter what city I end up in, I am proud to have been brought up around the music and spirit of old Tampa. Plus, no place else has Cuban sandwiches and deviled crabs to munch on after a gig!