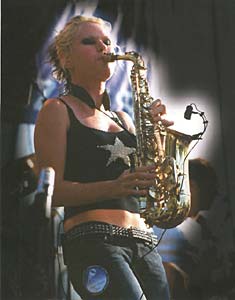 Mindi Abair
She graduated Magna Cum Laude from the Berklee College of Music in Boston, moved to L.A., eventually touring with artists like John Tesh, Adam Sandler, Bobby Lyle, Jonathan Butler, and even playing with the "Back to the Millennium" world tour with the Backstreet Boys.
No longer a sideman (woman) in someone else's band, Mindi is now a high profile recording artist with the top jazz label in the world, Verve/GRP Records.
She has a hit album playing on the Smooth Jazz stations called "It Just Happens That Way." Her first single, "Lucy's", stayed at number one on the charts for eight straight weeks tying a record for consecutive weeks at number one.
Check out her website at: www.mindiabair.com. She's carrying on the musical torch and moving up to new levels.
Update 6/26/2005
Mindi will be down at Ruth Eckerd Hall with the "Guitars and Saxes" tour on August 5, 2005
By the way, Mindi and Jason Steele (composer of music for national TV commercials and movies) just got married on April 23rd out on the beach on Sanibel Island (in their bare feet).