Mercy
Starting with a band he formed while attending Brandon High School, on the outskirts of Tampa Florida, Jack Sigler perfected his writing, arranging and performing skills. In 1968 George Roberts, a Hollywood producer heard Jack and his band, Mercy, rehearsing and he decided he wanted Mercy to appear in a film he was shooting in the Tampa area. The film was "Fireball Jungle", the last movie that Lon Chaney Jr. made before his death. Also in the film is John Russell of TV's "Lawman" fame and Durwood Kirby's son, Randy Kirby. Jack & Mercy recorded a Jack Sigler original entitled "Love Can Make You Happy" and the rest is music history! "Love Can Make You Happy" was recorded at the old Charles Fuller Studio on MacDill Avenue in Tampa, the same place The Royal Guardsmen recorded "Snoopy Vs The Red Baron".
"Love Can Make You Happy" has become an international classic earning Gold status immediately after hitting the charts. In 1984 Jack was awarded with BMI's prestigious "Millionaire Award" (one of only 200 songs to do so at the time) and is now well past two million airplays! Jack & Mercy also have the unique distinction of sharing the Top 10 with the three biggest artists in history, Elvis Presley (In The Ghetto), Frank Sinatra (My Way) and The Beatles (Get Back). It was the only time in history these legends would top the charts at the same time. Mercy was at #2!
"Love Can Make You Happy" is also in Billboard's Top 1000 songs since 1955. The flip side, "Fireball" was a major hit in Japan and parts of Europe.
Mercy was then picked up by Warner Brothers and recorded an album which spun off another hit, "Forever", followed up by another Jack Sigler original, "Hello Baby", which broke into the charts in various parts of the country.
Mercy toured the U.S. and Canada extensively, appearing with such greats as Gary Puckett and The Union Gap, The Turtles, The Association, The Cowsills, The Box Tops, The Byrds, Frankie Valli and The Four Seasons, Tommy James and The Shondells along with many others.
Mercy made many national TV appearances including The Mike Douglas Show, The National March of Dimes with Gary Collins and Mary Ann Mobley plus interviews on Dick Clark's American Bandstand. Jack and Mercy was booked for The Ed Sullivan Show, but was forced to cancel due to scheduling problems.
Mercy's powerful vocals and harmonies have made them one of the most memorable and loved music groups of the late 60's and early 70's. This incredible Tampa Bay group has definitely left a mark in music history!
Jack Sigler, along with new members, have now completed a new album called "Influences". The album is made up entirely of new Jack Sigler originals. Jack Sigler & Mercy are now touring again and are available for bookings. Jack Sigler & Mercy is exclusively managed by Wolfman Jack Entertainment. For booking inquiries or interviews email Wayne Hunnicutt at: wayne@wolfmanjack.com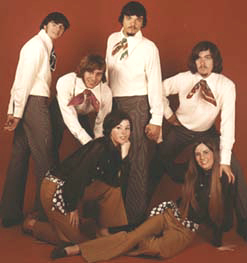 The Mercy Band
Left to right top row:
Ronnie Caudill, Roger Fuentes, James Marvell, Buddy Good Bottom row: Debbie Lewis and Brenda McNish