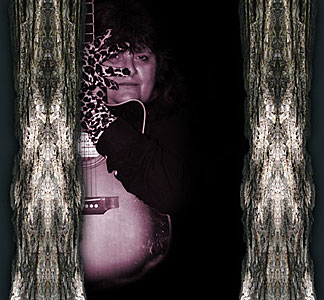 LINDA CASTELLANO
Born and raised in Tampa, Florida, Linda was inspired at a young age by her sister. She used to listen to her sing with local bands and watched her perform in admiration. At the age of eleven Linda picked up her first guitar and since that day she's been on her own musical road. When she got old enough, Linda started singing at local night clubs where she quickly gained recognition and popularity among those who heard her unique voice.
She wrote her first song in 1978 and to this day is still singing, writing and helping others on their quest for music. She currently has numerous songs in the hands of a publishing company in Nashville. If asked who have been her biggest influences, she would say from Janis Joplin to Gladys Knight (her favorite female vocalist). Linda says that the most fulfilling part of her musical life is being able to work with her family members as "they are their own studio." She hopes that all those who listen to her music may find some peace and words that will comfort their souls and put a smile on their face, as so many artists have done for her. Her dreams are, if be it God's will, for one of her songs to get in the right hands so she can help children through sharing her own musical journey.
In 1987 Linda wrote a song entitled "Assist in Drowning Out the Sickness" after viewing a television special on AIDS. The song was used to help raise money for children afflicted with this terrible disease through benefits that her and her band put together. Also in 1987, Linda and her band performed the song in front of the presidential committee in Miami, Florida. The single received airplay in Miami, Tampa, Alabama and Jacksonville. This cause will always remain near and dear to Linda's heart.
Web Site: www.whoisthiswoman.com