Named after it's leader Gil Machin... has been entertaining folks around the bay area for some time. They posses quite a bit of talent and are a regular at many celebrity parties in Tampa Bay.
Performing "Latin Jazz" at the Gallery Bistro located at the International Plaza in Tampa (next to the Blue Martini) each weekend from 7:30 pm - 11:00 pm; Guitar and congas. They're drawing a smooth jazz crowd and have had several guest artists perform including one of Tampa's most renowned conga players, Joe Lala.
Come for the music, stay for the food (it's delicious). A great evening for the 40 plus crowd.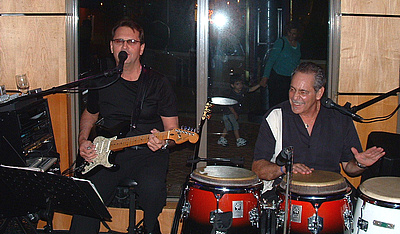 Joe LaLa jams with Gil Machin - 2006