Kickin' Again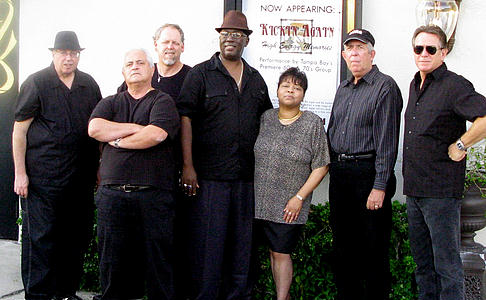 "Kickin' Again" is a group of "mature" musicians who, back in their day, (mid to late '60's) were playing in various groups throughout the eastern part of the country. Because of life's challenges, jobs, wives, kids, each member gave up their love of performing to meet the challenges of everyday life.

After 35-40 years we regrouped to fulfill the dream of our "Glory Years" and start performing the soundtrack of our youth. Dane LaBarr (Drums) and Ken Hoye (Keyboards) had discussed this possibility for about 10 years and finally when a Hammond B3 organ was purchased locally we agreed to give it a shot.

After an exhaustive six month search, we are pleased to bring you the newest edition of Kickin' Again. The sound generated by these 8 gifted musicians and vocalists has gelled into an outstanding blend of musical styles ranging from Soul, R&B, Classic Rock and Funk.

If you love the classic sound of a Hammond B3/Leslie combination, this is the band for you to hire. No B3 clones here! We are not your run of the mill garage band. Our group has amassed the best quality professional gear and can accommodate any situation which you may have, be it club, corporate gathering, wedding, or private party, etc..