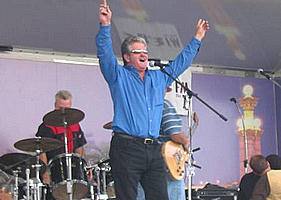 Kenny Flint featuring The Rough Diamond Band
Kenny Flint featuring The Rough Diamond Band performs New Country, Old Rock n Roll, Southern Rock, Pop, Band Originals and many crowd favorites. The band knows when to tone it down for easy listening and turn it up for party time! They will keep an audience moving in their seats and on the dance floor with the newest Country music and Classic Rock n Roll. Sometimes they bring an extra spark to the stage with costumes and skits which makes the Rough Diamond Band perfect for all occasions. Years of stage experience, opening for national acts, top of the line equipment, all make up one of Central Florida's top country bands.
The Rough Diamond Band consists of some of the finest Musicians in the area.
Kenny Flint is the Lead singer, guitar player and front man for the band. Born and raised in Tampa, FL. Ken is known as one of the best entertainers in the area. His stage presence and personality is like magic drawing the audience to his attention. Kenny has toured and jammed with such notables as Waylen Jennings, Hal Ketchem and Artimas Pyle. He is also the primary songwriter of the band and has previously recorded one CD "Crazy Horses." He is currently working on his 2nd release, "Crosswinds." Kenny has written over 60 and recorded more than 40 of his original songs which guarantees us years of great music from this band. Kenny got his nickname from one of his most popular songs and is affectionately known as "Rattlesnake Daddy."
Their Lead Guitarist Tom Wright is an extremely talented guitar player and they are proud to call him a member of The Rough Diamond Band. As well as being a versatile and creative guitarist, he is a master showman, well versed in most types of music from Hard Rock to Old Time Country. Tom calls St. Petersburg, FL home.
Playing Bass for the Rough Diamond Band is George Sutton. George does a great job taking care of the low end of the music. As well as being a great musician and dedicating a large part of his personal life to music, George donates his talents to his church helping make their services special.
Drummer Jamie Ganote is comfortable playing quiet ballads or attacking those skins on the rockin' numbers. Hailing from Kentucky, He has a creative and natural feel for the drums and is now a true southerner and a valuable member of The Rough Diamond Band.
These talented musicians have more than a century of professional music experience between them!
Their CD "Crazy Horses" consists of both old and new style Country Music. Written from his life experiences, Kenny says of the older style songs "Old Style Country is where the roots of Country music is and it is important to me to honor an age old tradition." Kenny plans to release his 2nd CD "Crosswinds" in the fall of this year which features a Southern Rock feel.
As well as accepting contributions for the Humane Society of Tampa Bay, they will also be offering t-shirts to benefit The Susan G. Komen Breast Cancer Foundation for sale on their website. If you are interested in helping either of these worthy causes, please visit their website and click on the "RDB Store" button.