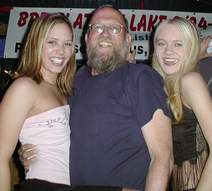 John Brumage
Truly a name every Tampa Bay Roc 'n Roller remembers from the "Golden Era" of local live music. He was a producer, engineer, a guru of the local rock 'n roll scene, and it paid off for him.
Here is John's bio:
Recording Engineer, Rosebud Studio, New York City.
Designed and Installed new mixing board. Recorded and mixed Symphony of Cacophony My only "Serious Work" as defined by the ASCAP.
1964-1969 CHIEF ENGINEER - Charles Fuller Productions, Tampa, Florida.
All aspects of audio and 16MM film production. My mentor Charles Fuller Hunt was an innovator in film for 30-second TV commercials.
Produced and engineered records including international gold record hits "Snoopy vs. The Red Baron" and "Baby, Let's Wait."
Operated acetate record cutting lathe, high speed audio tape duplication equipment.
During this time, managed and traveled with Florida show band "Noah's Ark"