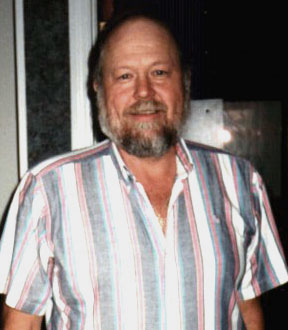 Guy Page
A little about me: I was born in Cloquet, Minnesota and moved to St. Pete when I was six years old. I had asthma real bad and my doctor in Minnesota gave my parents no choice but to move. He said I wouldn't make it thru the winter and the two best choices to go to were Arizona or Florida. Thank God they decided to go to Florida. I can't imagine being raised up in Arizona somewhere.
My musical career I guess started when I was seven years old. I started taking harmonica lessons at one of the youth centers. I took trumpet lessons in the fifth and sixth grade and started in band in the seventh grade at Mirror Lake Junior High School under Mr. Drum. I changed to baritone horn and then to tuba and played tuba in eighth and ninth grade. In the summer between seventh and eighth grade I took up trombone and plated with a little jazz combo for a year. Between eighth and ninth grade, I taught myself to play the guitar and that's when I decided to play in a rock and roll band.
In tenth grade, I got out of band after the first six weeks because it interfered with playing at the youth centers on Friday nights. I mostly played at the youth center at St. Pete Beach. We backed Freddie Cannon at a street dance when "Tallahassee Lassie" was a big hit. In the fall of 1961, I met Ronny Lowe and he wanted to get a band together and I said fine. About two weeks later, he came onto Webb's City, where I was employed as a bagboy, and asked me if I wanted to play three nights a week at the Robert James Hotel with Sterling McGee. I of course, said yes, because anything was better than working at Webb's City. We played there and the Manhattan Ballroom, The Tangibar, and The Peppermint Lounge before we split.
We got together and played the Srarlite lounge at Dale Mabry Bowling alley, where it took a toll on my senior year in high school and I dropped out. I played off and on with Ronny, also starting to play keyboards, until January of 1966, when I got an offer to join a band from Tampa called the Pirates. They were in Illinois and their guitar player had been drafted, so off I went to play. We went to Calunet, Ill and played where we met Wayne Cochran and the C.C.Riders. We came back to Tampa and played the Holiday House on Nebraska.
We broke and the drummer, Lenny Campbell (drums) and I got together with Paul Day (bass), Jerry McKoon (guitar) and Susan Robey (vocals) and formed the band "Decembers Children". At this time I mostly played keyboards. We booked out of Lowery Talent in Atlanta, and played clubs all over the southeast. We played on a lot of shows with a lot of stars and released a few records. We were together for almost five years. Some of the local clubs: the Holiday House and the Patio in Tampa, the White Rabbit in St. Pete and Surfside in Clearwater.
I then went with Tommy Roe when "Dizzy" was number one and played for about three months on the road doing one niters on big shows. Some of the more noted, Tommy James and the Shondells and the Beach Boys. We also headlined a few. After that I moved to Jacksonville, Fl and played on the beach at a club for almost a year.
I then moved to Tallahassee, where I got together a band called Solid Gold. We played clubs for about five years. I also worked as an air conditioning service tech and worked five days a week and played six nights a week. At this point, I no longer wanted to travel and give up my daytime job. I moved to Chattanooga, Tenn. and worked in air conditioning for a year and then moved to Huntsville, Al where my dad live
I still live in Huntsville. I played a few clubs here, but stopped playing in 1988, when I met my present wife Sandy. After three failed marriages, this one was the one forever and so I quit working two jobs and just kept the daytime one. We have been happy for seventeen years and I couldn't ask for anyone better. I have been truly blessed.
I no longer play as arthritis and diabetes have messed up my hands, but the music is still there, I just can't play it anymore. I will say that although there have been some bad times in my life, I wouldn't have had it any other way. I met a lot of people, seen a lot of things, and have been a lot of places, and had some great times and that is living life to the fullest. I have been there, I know.
I still go to St. Pete and visit my mother and sister. It is nice to sometimes see someone from long ago, and talk about the Good Old Days in St. Pete. There were many and after living in many places, It was a great place to grow up.
Some of the people I've played with:
Rock: Freddie Cannon, DeeDee Sharp, Bobby Goldsboro, Dee Clark, Brian Hyland, Jerry Lee Lewis, Kris Kenner, Conway Twitty, Classics Four, 1910 Fruitgum Company, Archie Bell and the Drells, Box Tops, Joe South, Haggers, Tommy Roe, Tommy James and the Shondells, Beach Boys.
Country:- Little Jimmie Dickens, Freddie Weller, Jeanie C. Riley, Jack Green,
Update 9/22/06:
Guy Page passed away on Sept 22, 2006 at his home in Alabama. He will be missed by many.