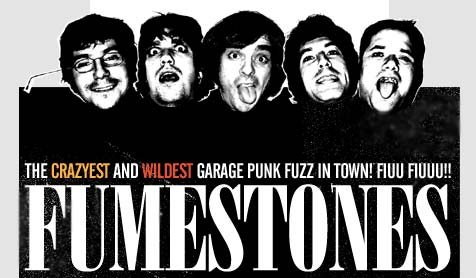 Fumestones
Spanish garage-punk band, inspirated in the mid-'80s, garage rock revival bands aimed to recapture the wild, rowdy, raucous spirit of '60s garage rock. The fumestones songs are full of fuzz-tone guitar, Farfisa organ riffs, and sneering vocals and their lives show the underlying assumption that garage rock's virtues embodied the true spirit of rock & roll.
Discography:
FUMESTONES "You never know 7" Wild EagleRecords (Australia) 2003.
VV.AA FREAKLAND IPUNKROCK. Motorphysco – Animal records. (Spain) 2003.
FUMESTONES " 5er Than ever" Lp / Cd H-Records (Spain) 2003
FUMESTONES "The night of the living deaf" Mini LP Wild eagle records
(Australia). 2004.
Biography:
The band came into being late one night, six years ago like a three-piece garage punk combo. But was four years ago when they became a really band introducing bass and organ players. The Fumestones recorded their debut "Sunday Morning" in October 2002, two of these song become in their first released " You neve know 7" " for the Australian label, Wild Eagle Records. The 7" It's a generous share of intense rock 'n' roll music where compromise and commercial considerations have been thrown out of the window and it had been very well received in both fanzines and major magazines all over Australia and Europe.
This made they being included on the "Ipunkrock festival" CD compilation with bands like Cynics, Maggots, Feedbacks, Del-gators.
At the end of 2003 The Fumestones released their first album "Fiver than Ever", a LP / CD, on the Spanish label H-Records. On this release The Fumestones continue to lash out their brand of garage punk/rock'n'roll filled with equal shares of hooks and mad fuzz attack rave-ups.
Their present their new release at the Wild Weekend Festival, playing also during the tour in the Actión Weekend, and in the Freakland Festival. Early in 2004 The Fumestones released "The Night of The Living Deaf" a CD for the Australian label Wild Eagle Records with 10 old songs recorded in 2002.
Links:
www.mx.groups.yahoo.com/group/fumestones Fumestones yahoo groups where you can find mp3 of all their releases.