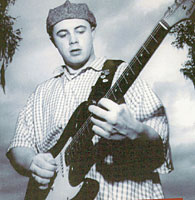 Damon Fowler Group
From Riverview, Florida, The Damon Fowler Group. Damon Fowler is a gem, a hard nose guitar player and singer / songwriter. This Riverview native caught the eye of Rick Derringer, former member of the McCoys (Hang On Sloopy) and Johnny & Edgar Winter Groups. Derringer produced the band's only LP 'Riverview Drive' in the late 90s.
The band consisted of Fowler, Reece Smith on base, Billy Annin on drums and percussion, J.R. Roberts on vocals, Dennis Toerpe on the Ham-mond B3, George Bernardo on percussion, Amanda Watkins on background vocals, and Rick Derringer on rhythm guitar and background vocals.
The CD is an awesome display of a young man with plenty of raw talent and power. One of the most gifted to ever come out of Tampa Bay.