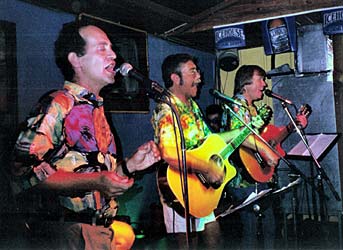 Bruce And His Bayside Boys
After teaching for many years in the New York City school system, Bruce Jacobs took a road less traveled: songwriting.
He joined the National Academy of Popular Music and began to attend songwriting seminars. Out of these sessions came support, collaborations, and his first album, "Steppin' Across the Line." Songs from this CD have been performed in Triad, Dark Star Lounge and Max's Kansas City, with radio play on stations as far-flung as Florida and Ireland. Among the favorites are "Slow Circles" and "Middle Aged Man With a Teenage Crush."
Bruce's second CD, "Floridazed", features Bruce on vocals with his St. Pete "band of brothers": Cousin Bob Jacobs, Bill Harrill, Mark Gilbert and Brian Snyder. Songs from this album have appeared on Tampa radio station WMNF in an interview and performance featuring Bruce and his Bayside Boys. In addition, hundreds of people listen to "Floridazed" songs every day: a fleet of sailboats and tour boats has taken to playing the CD on their Gulf cruises. So don't be surprised if you hear "Sandspurs on My Heart" or "I'm Off to St. Pete" while you're out on the water!
Bruce's major influences are, of course, Jimmy Buffett, along with classic singer-songwriters like Bob Dylan and Van Morrison. To him, the lyrics come first: often with a story, sometimes with humor, always with feeling.