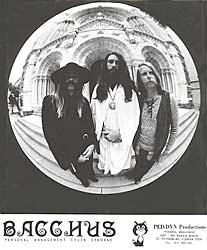 Bacchus
"Well, the TROPICS broke up around 1969 BILL PETERSON, ERIC TURNER & CHARLIE SOUZA, www.charliesouza.tv , together, formed a new band " BACCHUS", Named after the Greek Mythological God of Wine, Women, & Song! "
A quote by BILL PETERSON, Tampa's Premier Freelance, Funkiest Feeling, Straight ahead, Rock & Soul, Put a Rocket in your Pocket, Drummer of The Biggest sounding three piece ROCK n ROLL Band that ever came out of the bay area! BACCHUS ! ! !
WE stayed together until about 1973, we were on the road all the time. Margie Sexton, The Tropics old Manager booked us on several really great shows, including MAHAVISHNU ORCHESTRA, whom we opened for and to our surprise, we were very well recieved ! We did a record called "CARRY MY LOAD". It played on a few local radio stations. But we played a lot of the same deep south venues that the TROPICS had been playing the last years of thier stint. I, (Bill Peterson) played in THE SENDERS, another Tampa rock band, before joining Eric and Charlie in Bacchus, who played hard rock with a blues edge & now & then we threw a little Latin in there because we came from Tampa!
A few people in the Psychedelic underground scene, still talk about BACCHUS records, and thier live shows in Lowery Park, and other concerts & shows they opened, with many big names.