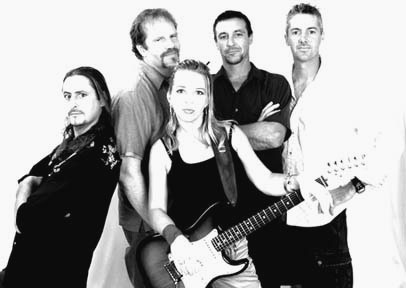 B-Movie
B-Movie is a band of extraordinary talent that started years back as a cover band around Sarasota Fl. area named random act. Although originally meant to be an extra income for some band members, there was always a special sense of style to this act. As time passed and members came and went, songwriter Al, stopped in for a jam session, cranked out one of his own songs, and the band caught on immediately. Soon after, Al joined the band, and convinced the other members to have some vision about their ability.
Soon Sean, and Annalise started bringing up some ideas they had and the magic happened. Some members left but Adam and Bain, both lifelong friends of Sean, joined forces. For a short while the band was called Mantra. This didn't fit. So one day in those famous "what shall we call the band?"episodes, they all came up with "B-Movie" and it stuck. Now B-Movie they are sticking to their guns with the songs they write doing mainly show type gigs that keep the crowd, and I do mean crowds, jumping. B-Movie is as exciting to see live as it is to hear the pure emotion that pours out of their recordings. Influenced by include, Billy Cobham, Larry Norman, Aimee Mann, Rush, No Doubt, Black Sabbath, Peter Gabriel, The Police, Stone Temple Pilots, Nirvana, Allman Brothers, Red Hot Chili Peppers and a myriad of other eclectic artists.
Update: 2004:
Adam left for New Zealand, Tom "Bomb" filled in and played and then left to pursue other interests now Taylor has been a bright addition to the B-Movie line up.
Web site: www.b-movieband.com